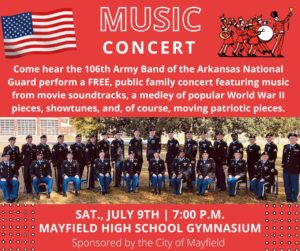 The 106th Army Band's Concert Band and Jazz Band are performing a free, public concert in Mayfield, Kentucky. Warrant Officer William "Stony" Evans, First Sergeant Heather Peters, and Sergeant First Class Lauren Russell will be conducting the concert band through an exciting program of music that has something for everyone. This year's program features music from movie soundtracks, a medley of popular World War II pieces, showtunes, and, of course, moving patriotic pieces. The Jazz Band, under the direction of Sergeant First Class Cody Jernigan, will knock your socks off as they present a package of hard hitting jazz standards.
Tracing its lineage to the Spanish-American War, the 106th has served the Army honorably since 1898 and the Arkansas National Guard since 1927. When not serving our state during summer tours, the 106th often backfills for Active Duty bands across the country. Based in North Little Rock, Arkansas, the 106th Army Band is comprised of 37 Soldiers from across Arkansas, Texas, Mississippi, Tennessee, and Kansas, and performs with a full Concert ensemble, and a range of smaller "musical performance teams" to include rock and jazz bands, a ceremonial band, and brass ensembles. The 106th works hard to live up to its motto "Service through Music."
These events are free and open to the public. No tickets or reservations are required.